Hurray! Our MOSAÏQUE album got nominated for a JUNO award! We are jumping with joy!
Here's the moment from the nomination broadcast. Congratulations to all the other nominees!
Thanks to all of our sponsors and donors that helped bring this project to life, thanks to the presenters all across Canada that invited us to perform, and thanks to YOU for participating, listening, drawing and being a part of MOSAÏQUE!!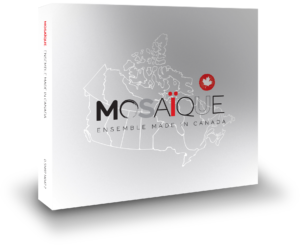 And just in case you still don't have the album, it's available from our store.
See you at the Junos, May 16, 2021…
– Ensemble Made In Canada